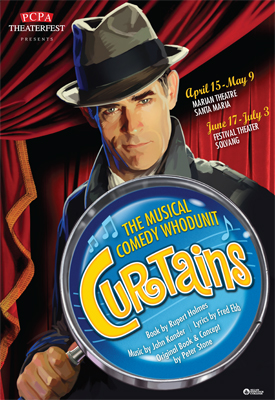 The California Central Coast's pre-eminent professional theatre, PCPA TheatreFest is presenting the smash-hit musical whodunit CURTAINS in a split run, April 15-May 9 in Santa Maria's Marian Theatre and June 17-July 3rd at the Festival Theatre in Solvang. The company has been presenting for over 45 years and has become a staple of the Central Coast's vibrant Arts scene. I recently spoke with Craig Shafer, the Media Relations / Communications Manager for PCPA and Erik Stein who has the plum role of Christopher Belling in CURTAINS, about the production. Shafer brought me up to speed on the gargantuan task of creating a production of this beautifully designed musical that can be moved from one theater space to another.

"We've been performing dual runs in Santa Maria and Solvang since 1974. Many years ago we used to do rotating rep between the two venues. Now we typically open a show in Santa Maria then transfer to Solvang which is about 30 minutes to the south. The Solvang community built the Festival Theater with the primary intention to host PCPA productions in the summer time. The Festival Theatre is run by Solvang Theaterfest, a non-profit that maintains the facility. Since it's open air there are special considerations made in the lighting plot, but the stage is sized to within an inch or two of the Marian in Santa Maria. Both are thrust stages – 450 in Santa Maria – 700 in Solvang. And, all tech and performances can only be performed at night," Shafer said.
So far, CURTAINS is shaping up to deliver a huge hit for PCPA. Brad Memberto, reviewer for the Santa Maria Times raved, "It features great songs by the classic duo of John Kander and Fred Ebb, a very funny book by Rupert Holmes, terrific over-the-top performances and fantastic choreography. The production — currently running at the Marian Theater in Santa Maria — is brilliantly directed by Roger DeLaurier. "Curtains" is so good you will feel a need to see it again and again."
I recently had the pleasure of interviewing cast member Erik Stein, who plays director Christopher Belling, about his approach to this brilliantly funny role:
Q: I think Christopher Belling is just a fabulous role. He's witty and so over-the-top. Are you having fun making him your own?
ERIK STEIN: I am having so much fun! I've never played a character like Christopher before. I've always admired the wit of Noel Coward and Oscar Wilde, and I am a huge fan of the flamboyance of Peter O'Toole, Tim Curry, Richard Harris, Stewey Griffin…. It is a lot of fun to see just how far I can go and still be a real person.
Q: I noticed you've added a cat to show…I laughed out loud when I saw the publicity shot of you with Purryl. A great, awesome idea. Is Purryl a newcomer to the stage? Does she have any lines?
E.S.: I am a cat lover, and I am thrilled to share the stage with Purryl. She is a newcomer to the stage, yet she is a natural. She has no written lines, however, I would not be surprised if she started improvising. She is very comfortable in the spotlight.
Q: How has the experience been of working on a newer show like CURTAINS?
E.S.: I love working on a relatively new musical that so few people have seen. I think this show has the potential to become a classic, and it is thrilling to be able to share this first experience with so many people.
I think audiences must be thrilled, too, with Stein's performance. The Times review glowed about his performance: "Stein is beyond fantastic in the funniest role at PCPA in years. From his hilarious entrance to his final exit, Stein steals the show with every single movement and line he delivers. Watching the tall actor prance and sashay across the stage was pure joy. I'm not sure who had more fun, the audience or Stein."
I also took a few minutes to talk to PCPA's Shafer, three weeks prior to the show's smash-hit opening, about some unique and innovative marketing concepts he's hatched for CURTAINS.
Q: Your marketing for CURTAINS includes a great "get to know the characters" section. Do you do that for all your shows or is this a just for CURTAINS thing?
CRAIG SHAFER: I've never done a "get to know the characters" in our publicity before, but we were really intrigued by playing up the whodunit component without getting too close to melodrama. Sharing the characters' relationships with one another seemed like a great way to engage the audience ahead of time. Also, some of our resident artists are quite popular with the audience and this served as a way of getting their faces out there and further building excitement.
Q: The TV commercial you have on your website is great, tying the show in with all the other big Kander & Ebb titles. Do you produce your own video or hire it out?
C.S.: Our TV and radio commercials are created in collaboration with our ad agency AdMinds in San Luis Obispo and directed by PCPA Marketing Director Maria Centrella. This was one of the more extensive edits we've done.
Q:  How you go about promoting a newer show like CURTAINS?
C.S.:  Well, "Curtains," for a relatively new and unknown title– in the regional theatre world — is doing solid advance sales. We're three weeks out, so we expect that to really take off in the next two weeks. Just saying "murder-mystery-musical-comedy" gets a chuckle and builds intrigue, and when Kitty Genge (Carmen) says in her brassy New York accent in the radio and TV spot, "It'll kill ya!" everyone knows they're in for a good time.
Q: The photos are AMAZING! How did you get such great shots so far ahead of opening?
C.S.: Our photo shoot was a bit ambitious. First, we used the backstage of the Marian Theatre just hours before a matinee performance of Macbeth. We needed to capture images for both the TV spot and publicity for the press and web site. The goal was not to play the play, but play with the emotions and characters… Six actors were called, which is more than usual, and the shot list was twice the norm and it was squeezed into a 45 minute call compared to our typical 30 minute shoot. I think it was extremely successful all around.
Q:  I think a lot of theatres looking at CURTAINS can really benefit from some of these great ideas. What kind of thing do you do now as you close in on opening night?
C.S.: There will be a new flash animation on the home page and a video glimpse into a rehearsal. I just sent out an E-Newsletter to our 10,000 + email subscribers that pointed out all the multimedia we have on the web with a reminder the show is just three weeks out. That will give us a huge bump on web page views which is currently exceeding 700 hits a week. In fact, that number should double very shortly. I'll repeat a week out pointing to the additional content on the web site with the standard publicity to follow, the usual radio and TV interviews and advance newspaper feature or two prior to reviewers on opening night. Then watch word of mouth carry it home.
In addition to the great review in the Santa Maria Times, the San Luis Obispo Tribune gave plaudits to the production saying, "PCPA Theaterfest's "Curtains" is a treat for Central Coast audiences…PCPA is one of the first on the West Coast to present it — and endow it with creative energy and good humor."
My thanks go to Erik Stein and Craig Shafer for taking time out of their busy schedules for interviews. For more information on CURTAINS, visit the show's homepage.
-by Fred Stuart for TRW
For the full text of the reviews visit:
http://www.santamariatimes.com/entertainment/arts-and-theatre/article_27350454-4ea8-11df-9268-001cc4c03286.html
http://www.sanluisobispo.com/2010/04/22/1112399/stage-showbiz-can-be-murder.html