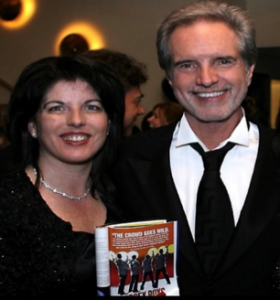 By Danielle Gaudio-Lalehzar
"My parents named me after the song "Sherry" and "My wedding song was 'Can't Take My Eyes Off You'" are statements I've heard many times. These songs that touch the lives of millions, my own included, were written by my father, a Jersey Boy.
Music has been an integral part of my life since birth. It's in my blood. Born with the name Gaudio, AUDIO with a G as we refer to it in my family, how could my life not revolve around music?
Concerts, studios, rehearsals and recording sessions were part of the norm for me growing up. My passion for music evolved into an opportunity to join TRW following a twelve-year hiatus to raise my kids. Many moms, like myself, can attest to how difficult a decision it is. Here was my chance to relaunch in a new career that connects me to my passion for music.
TRW was the place for me. My enthusiasm for the position grew as I realized our catalog included not only Jersey Boys but also Million Dollar Quartet, All Shook Up, and The Addams Family; all brilliant musicals I had seen in the past, each of them sparking significant joyful memories.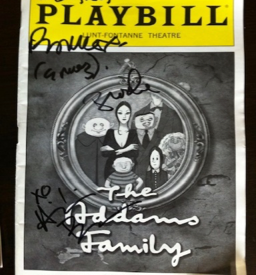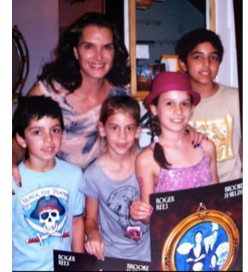 Memorable time at THE ADDAMS FAMILY on Broadway (Brooke Shields posing with me and my friends kids)
As the Marketing Associate, one of my first assignments was to write for this very blog. I was asked to write about one of our newest musicals: The Man in the Ceiling. The fear of failure paralyzed me. Doubt started creeping into my head: "Can I do this?" "Am I up to the task?" "Where do I begin?"
I felt anxious and scared about producing something worthy of placement on our blog. "What if I failed?" The answer to that became clearer as I got closer to the story and the music.
I began researching The Man in the Ceiling's creators: Andrew Lippa (Music & Lyrics) and Jules Feiffer (Book). I needed to know who they were and what motivated them. An article I cam across written by Lippa, titled "7 Pieces of Advice for Writers," addressed overcoming fear and trusting your art. "Let the piece become what it wants to be…be ready to tell this story in a new way." These were the words I needed to hear at that moment. My own fears of failure diminished as I absorbed his advice. My confidence grew as I realized I should not worry about the outcome and just write.
As I continued reading about Andrew Lippa and his work, I discovered his inspiration for composing the music and lyrics for The Man in the Ceiling fit the criteria he uses for everything he works on: "Loving the characters and feeling moved." A project that I initially feared soon became one I felt passionate about. I could not wait to read the book and fall in love with the characters.
The Man in the Ceiling, written by Jules Feiffer, is a story about a boy named Jimmy who loves to draw, and cartooning is his specialty. As a 7th grader in middle school Jimmy is young and vulnerable; He's trying to fit in. He struggles with doing what he wants to do versus what his father and the popular kid in school thinks he should do. Jimmy's Uncle Lester understands Jimmy's artistic side and encourages him. Both Jimmy and his Uncle are trying to achieve acceptance and appreciation of their talents. Their bond is what enables them both to succeed in the end.
While reading the book, I compared scenarios and situations from my own family to Jimmy's. No family is perfect or without conflict. The Man in the Ceiling portrays this in a beautiful, uplifting way.
People, photographs, and music captivate me through the stories they tell; they make my heart sing. Andrew Lippa was inspired to write the musical adaptation after receiving a copy of The Man in the Ceiling as a gift. He then gifted it to Broadway producer & director, Jeffrey Seller who then signed on to direct the initial productions. Sharing a book was the catalyst behind this musical bringing three brilliant creators together.
The story of its transformation from page to stage, coupled with my love for it, moved me immensely. Within days I was gifting the book too. I couldn't wait to share it and see if others felt connected and inspired the way I did.
Jules Feiffer's charming novel consumed my thoughts for days. How would this story about passion and patience, fear and failure, hope and happiness sound in a musical story? Music tells its own story evoking all sorts of emotions and I was counting the days until I could HEAR this story told by its brilliant composer.
Listening to the cast recording for the first time was magical. I found myself imagining these songs accompanying me on my next 5K race. An injury that derailed me from my perpetual half marathon streak would no longer stop me. The music filled me with inspiration and excitement where fear was lingering too long.
Playlists with carefully chosen titles have always been the power behind crossing the finish line for me. Music is magic. Magically it would erase my fear and fuel my run. I stopped thinking about my previous injury and started listening to "Jimmy." This upbeat song with the bouncy, piano feel filled me with happiness, joy and courage. I listened to it repeatedly and became obsessed with this new soundtrack.
"Draw Your Own Conclusion" is both Act II finale and the inspirational message surfacing in the script. As I ran, the powerful lyrics from the refrain provided me with the positive energy I needed to run:
Wrap yourself in possible
And watch your life take shape
Chart your own direction
Choose what's right for you
Draw your own conclusion
And all your dreams come true
The Man in the Ceiling has left its mark on me in many ways. It has filled me with joy and inspired me to express my enthusiasm for the messages in both the story and the music: Pursuing your passion and following your dreams. Jules Feiffer writes that "every 'failure' is a piece of future luck." This, along with Andrew Lippa's lyrics for "Draw Your Own Conclusion," are perfect mantras for anyone to include in their life.
In both the book and the musical, Jimmy is drawn to create because "The Man in the Ceiling" tells him to. We are left to wonder, "Who is he anyway?" I think he is whoever you want him to be or whoever you need him to be. You draw your own conclusion. I drew mine.