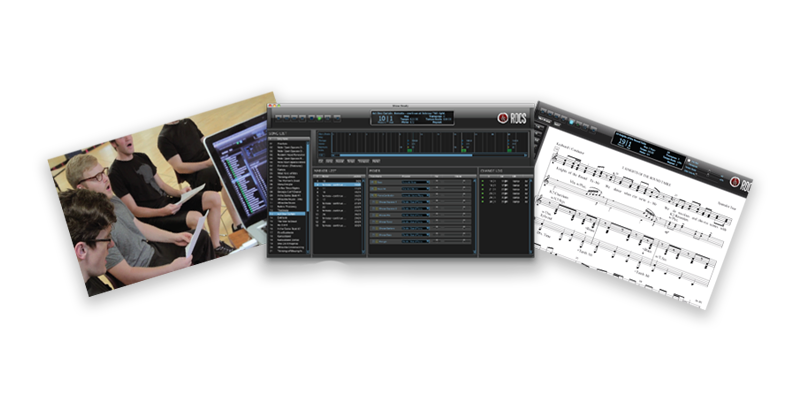 Customizable rehearsal tracks!
ShowReady™ is fueled by ROCS (Right On Cue Services) who has made is possible to send your music director home with each and every member of your cast! ShowReady™ allows you to play customizable rehearsal tracks of your show, complete with individual vocal parts, on a Mac, PC or iOS device.
With an intuitive interface, you have complete control over which parts you hear, allowing you to modify keys, tempos, cuts, vamps or repeats as you please. ShowReady™ doesn't only categorize songs by show order; you may sort by cast member, ensemble or even dance number. All shows include the Piano/Conductor, bass, drum and individual and ensemble vocal parts.

ShowReady™ makes it easy for music directors to communicate with their cast, as the edits made are saved locally and distributed via the internet to cast members. This enables your entire cast to rehearse correctly from the beginning, saving valuable rehearsal time.
All shows include the piano, bass, drum, all vocal parts, and click track as well as a sheet music viewer that automatically displays the Piano/Conductor score and changes the page as you listen and navigate throughout the show. ShowReady™ is super affordable at just $300, which covers your entire cast and crew!
ShowReady™ is available for:
The Addams Family
The Addams Family School Edition
All Shook Up
Bare
Beehive, the '60s Musicals
Beehive School Edition
Big Fish
Big Fish School Edition
Big Fish – Small Cast
The Bodyguard
Bright Star
Bright Star School Edition
Breaking Up Is Hard To Do
Changing Minds
The Color Purple
Curtains
Curtains School Edition
Flashdance
Flight of the Lawnchair Man – School Edition
Forbidden Broadway: Greatest Hits Vol. 1
Ghost the Musical
Ghost the Musical School Edition
Ghost – Small Cast
Grease (Licensing available outside U.S. & Canada)
Grease School Edition (Licensing available outside U.S. & Canada)
Grumpy Old Men
Memphis
Monty Python's Spamalot
Monty Python's Spamalot School Edition
On Your Feet
Priscilla Queen of the Desert
Wanda's World
We Will Rock You
We Will Rock You – School Edition